0010100100111001001001000100100100010100100010101010001011010101010100101010010101000100101001010001010010011100100100100010010010001010010001010101000101101010101010010101001010100010010100101000101001001110010010010001001001000101001000101010100010110101010101001010100101010001001010010100010100100111001001001000100100100010100100010101010001011010101010100101010010101000100101001010001010010011100100100100010010010001010010001010101000101101010101010010101001010100010010100101000101001001110010010010001001001000101001000101010100010110101010101001010100101010001001010010100010100100111001001001000100100100010100100010101010001011010101010100101010010101000100101001010001010010011100100100100010010010001010010001010101000101101010101010010101001010100010010100101000101001001110010010010001001001000101001000101010100010110101010101001010100101010001001010010100010100100111001001001000100100100010100100010101010001011010101010100101010010101000100101001010001010010011100100100100010010010001010010001010101000101101010101010010101001010100010010100101000101001001110010010010001001001000101001000101010100010110101010101001010100101010001001010010100010100100111001001001000100100100010100100010101010001011010101010100101010010101000100101001010001010010011100100100100010010010001010010001010101000101101010101010010101001010100010010100101000101001001110010010010001001001000101001000101010100010110101010101001010100101010001001010010100010100100111001001001000100100100010100100010101010001011010101010100101010010101000100101001010001010010011100100100100010010010001010010001010101000101101010101010010101001010100010010100101000101001001110010010010001001001000101001000101010100010110101010101001010100101010001001010010100010100100111001001001000100100100010100100010101010001011010101010100101010010101000100101001010001010010011100100100100010010010001010010001010101000101101010101010010101001010100010010100101000101001001110010010010001001001000101001000101010100010110101010101001010100101010001001010010100010100100111001001001000100100100010100100010101010001011010101010100101010010101000100101001010001010010011100100100100010010010001010010001010101000101101010101010010101001010100010010100101000101001001110010010010001001001000101001000101010100010110101010101001010100101010001001010010100010100100111001001001000100100100010100100010101010001011010101010100101010010101000100101001010001010010011100100100100010010010001010010001010101000101101010101010010101001010100010010100101000101001001110010010010001001001000101001000101010100010110101010101001010100101010001001010010100010100100111001001001000100100100010100100010101010001011010101010100101010010101000100101001010001010010011100100100100010010010001010010001010101000101101010101010010101001010100010010100101000101001001110010010010001001001000101001000101010100010110101010101001010100101010001001010010100010100100111001001001000100100100010100100010101010001011010101010100101010010101000100101001010001010010011100100100100010010010001010010001010101000101101010101010010101001010100010010100101000101001001110010010010001001001000101001000101010100010110101010101001010100101010001001010010100010100100111001001001000100100100010100100010101010001011010101010100101010010101000100101001010001010010011100100100100010010010001010010001010101000101101010101010010101001010100010010100101000101001001110010010010001001001000101001000101010100010110101010101001010100101010001001010010100010100100111001001001000100100100010100100010101010001011010101010100101010010101000100101001010001010010011100100100100010010010001010010001010101000101101010101010010101001010100010010100101000101001001110010010010001001001000101001000101010100010110101010101001010100101010001001010010100010100100111001001001000100100100010100100010101010001011010101010100101010010101000100101001010001010010011100100100100010010010001010010001010101000101101010101010010101001010100010010100101000101001001110010010010001001001000101001000101010100010110101010101001010100101010001001010010100010100100111001001001000100100100010100100010101010001011010101010100101010010101000100101001010001010010011100100100100010010010001010010001010101000101101010101010010101001010100010010100101000101001001110010010010001001001000101001000101010100010110101010101001010100101010001001010010100010100100111001001001000100100100010100100010101010001011010101010100101010010101000100101001010001010010011100100100100010010010001010010001010101000101101010101010010101001010100010010100101000101001001110010010010001001001000101001000101010100010110101010101001010100101010001001010010100010100100111001001001000100100100010100100010101010001011010101010100101010010101000100101001010001010010011100100100100010010010001010010001010101000101101010101010010101001010100010010100101000101001001110010010010001001001000101001000101010100010110101010101001010100101010001001010010100010100100111001001001000100100100010100100010101010001011010101010100101010010101000100101001010001010010011100100100100010010010001010010001010101000101101010101010010101001010100010010100101000101001001110010010010001001001000101001000101010100010110101010101001010100101010001001010010100010100100111001001001000100100100010100100010101010001011010101010100101010010101000100101001010001010010011100100100100010010010001010010001010101000101101010101010010101001010100010010100101000101001001110010010010001001001000101001000101010100010110101010101001010100101010001001010010100010100100111001001001000100100100010100100010101010001011010101010100101010010101000100101001010001010010011100100100100010010010001010010001010101000101101010101010010101001010100010010100101000101001001110010010010001001001000101001000101010100010110101010101001010100101010001001010010100010100100111001001001000100100100010100100010101010001011010101010100101010010101000100101001010001010010011100100100100010010010001010010001010101000101101010101010010101001010100010010100101000101001001110010010010001001001000101001000101010100010110101010101001010100101010001001010010100010100100111001001001000100100100010100100010101010001011010101010100101010010101000100101001010001010010011100100100100010010010001010010001010101000101101010101010010101001010100010010100101000101001001110010010010001001001000101001000101010100010110101010101001010100101010001001010010100010100100111001001001000100100100010100100010101010001011010101010100101010010101000100101001010001010010011100100100100010010010001010010001010101000101101010101010010101001010100010010100101000101001001110010010010001001001000101001000101010100010110101010101001010100101010001001010010100010100100111001001001000100100100010100100010101010001011010101010100101010010101000100101001010001010010011100100100100010010010001010010001010101000101101010101010010101001010100010010100101000101001001110010010010001001001000101001000101010100010110101010101001010100101010001001010010100010100100111001001001000100100100010100100010101010001011010101010100101010010101000100101001010001010010011100100100100010010010001010010001010101000101101010101010010101001010100010010100101000101001001110010010010001001001000101001000101010100010110101010101001010100101010001001010010100010100100111001001001000100100100010100100010101010001011010101010100101010010101000100101001010001010010011100100100100010010010001010010001010101000101101010101010010101001010100010010100101000101001001110010010010001001001000101001000101010100010110101010101001010100101010001001010010100010100100111001001001000100100100010100100010101010001011010101010100101010010101000100101001010001010010011100100100100010010010001010010001010101000101101010101010010101001010100010010100101000101001001110010010010001001001000101001000101010100010110101010101001010100101010001001010010100010100100111001001001000100100100010100100010101010001011010101010100101010010101000100101001010001010010011100100100100010010010001010010001010101000101101010101010010101001010100010010100101000101001001110010010010001001001000101001000101010100010110101010101001010100101010001001010010100010100100111001001001000100100100010100100010101010001011010101010100101010010101000100101001010001010010011100100100100010010010001010010001010101000101101010101010010101001010100010010100101000101001001110010010010001001001000101001000101010100010110101010101001010100101010001001010010100010100100111001001001000100100100010100100010101010001011010101010100101010010101000100101001010001010010011100100100100010010010001010010001010101000101101010101010010101001010100010010100101000101001001110010010010001001001000101001000101010100010110101010101001010100101010001001010010100010100100111001001001000100100100010100100010101010001011010101010100101010010101000100101001010001010010011100100100100010010010001010010001010101000101101010101010010101001010100010010100101000101001001110010010010001001001000101001000101010100010110101010101001010100101010001001010010100010100100111001001001000100100100010100100010101010001011010101010100101010010101000100101001010001010010011100100100100010010010001010010001010101000101101010101010010101001010100010010100101000101001001110010010010001001001000101001000101010100010110101010101001010100101010001001010010100010100100111001001001000100100100010100100010101010001011010101010100101010010101000100101001010001010010011100100100100010010010001010010001010101000101101010101010010101001010100010010100101000101001001110010010010001001001000101001000101010100010110101010101001010100101010001001010010100010100100111001001001000100100100010100100010101010001011010101010100101010010101000100101001010001010010011100100100100010010010001010010001010101000101101010101010010101001010100010010100101000101001001110010010010001001001000101001000101010100010110101010101001010100101010001001010010100010100100111001001001000100100100010100100010101010001011010101010100101010010101000100101001010001010010011100100100100010010010001010010001010101000101101010101010010101001010100010010100101000101001001110010010010001001001000101001000101010100010110101010101001010100101010001001010010100010100100111001001001000100100100010100100010101010001011010101010100101010010101000100101001010001010010011100100100100010010010001010010001010101000101101010101010010101001010100010010100101000101001001110010010010001001001000101001000101010100010110101010101001010100101010001001010010100010100100111001001001000100100100010100100010101010001011010101010100101010010101000100101001010001010010011100100100100010010010001010010001010101000101101010101010010101001010100010010100101000101001001110010010010001001001000101001000101010100010110101010101001010100101010001001010010100010100100111001001001000100100100010100100010101010001011010101010100101010010101000100101001010001010010011100100100100010010010001010010001010101000101101010101010010101001010100010010100101000101001001110010010010001001001000101001000101010100010110101010101001010100101010001001010010100010100100111001001001000100100100010100100010101010001011010101010100101010010101000100101001010001010010011100100100100010010010001010010001010101000101101010101010010101001010100010010100101000101001001110010010010001001001000101001000101010100010110101010101001010100101010001001010010100010100100111001001001000100100100010100100010101010001011010101010100101010010101000100101001010001010010011100100100100010010010001010010001010101000101101010101010010101001010100010010100101000101001001110010010010001001001000101001000101010100010110101010101001010100101010001001010010100010100100111001001001000100100100010100100010101010001011010101010100101010010101000100101001010001010010011100100100100010010010001010010001010101000101101010101010010101001010100010010100101000101001001110010010010001001001000101001000101010100010110101010101001010100101010001001010010100010100100111001001001000100100100010100100010101010001011010101010100101010010101000100101001010001010010011100100100100010010010001010010001010101000101101010101010010101001010100010010100101000101001001110010010010001001001000101001000101010100010110101010101001010100101010001001010010100010100100111001001001000100100100010100100010101010001011010101010100101010010101000100101001010001010010011100100100100010010010001010010001010101000101101010101010010101001010100010010100101000101001001110010010010001001001000101001000101010100010110101010101001010100101010001001010010100010100100111001001001000100100100010100100010101010001011010101010100101010010101000100101001010001010010011100100100100010010010001010010001010101000101101010101010010101001010100010010100101000101001001110010010010001001001000101001000101010100010110101010101001010100101010001001010010100010100100111001001001000100100100010100100010101010001011010101010100101010010101000100101001010001010010011100100100100010010010001010010001010101000101101010101010010101001010100010010100101000101001001110010010010001001001000101001000101010100010110101010101001010100101010001001010010100010100100111001001001000100100100010100100010101010001011010101010100101010010101000100101001010001010010011100100100100010010010001010010001010101000101101010101010010101001010100010010100101000101001001110010010010001001001000101001000101010100010110101010101001010100101010001001010010100010100100111001001001000100100100010100100010101010001011010101010100101010010101000100101001010001010010011100100100100010010010001010010001010101000101101010101010010101001010100010010100101000101001001110010010010001001001000101001000101010100010110101010101001010100101010001001010010100010100100111001001001000100100100010100100010101010001011010101010100101010010101000100101001010001010010011100100100100010010010001010010001010101000101101010101010010101001010100010010100101000101001001110010010010001001001000101001000101010100010110101010101001010100101010001001010010100010100100111001001001000100100100010100100010101010001011010101010100101010010101000100101001010001010010011100100100100010010010001010010001010101000101101010101010010101001010100010010100101000101001001110010010010001001001000101001000101010100010110101010101001010100101010001001010010100010100100111001001001000100100100010100100010101010001011010101010100101010010101000100101001010001010010011100100100100010010010001010010001010101000101101010101010010101001010100010010100101000101001001110010010010001001001000101001000101010100010110101010101001010100101010001001010010100010100100111001001001000100100100010100100010101010001011010101010100101010010101000100101001010001010010011100100100100010010010001010010001010101000101101010101010010101001010100010010100101000101001001110010010010001001001000101001000101010100010110101010101001010100101010001001010010100010100100111001001001000100100100010100100010101010001011010101010100101010010101000100101001010001010010011100100100100010010010001010010001010101000101101010101010010101001010100010010100101000101001001110010010010001001001000101001000101010100010110101010101001010100101010001001010010100010100100111001001001000100100100010100100010101010001011010101010100101010010101000100101001010001010010011100100100100010010010001010010001010101000101101010101010010101001010100010010100101000101001001110010010010001001001000101001000101010100010110101010101001010100101010001001010010100010100100111001001001000100100100010100100010101010001011010101010100101010010101000100101001010001010010011100100100100010010010001010010001010101000101101010101010010101001010100010010100101000101001001110010010010001001001000101001000101010100010110101010101001010100101010001001010010100010100100111001001001000100100100010100100010101010001011010101010100101010010101000100101001010001010010011100100100100010010010001010010001010101000101101010101010010101001010100010010100101000101001001110010010010001001001000101001000101010100010110101010101001010100101010001001010010100010100100111001001001000100100100010100100010101010001011010101010100101010010101000100101001010001010010011100100100100010010010001010010001010101000101101010101010010101001010100010010100101000101001001110010010010001001001000101001000101010100010110101010101001010100101010001001010010100010100100111001001001000100100100010100100010101010001011010101010100101010010101000100101001010001010010011100100100100010010010001010010001010101000101101010101010010101001010100010010100101000101001001110010010010001001001000101001000101010100010110101010101001010100101010001001010010100010100100111001001001000100100100010100100010101010001011010101010100101010010101000100101001010001010010011100100100100010010010001010010001010101000101101010101010010101001010100010010100101000101001001110010010010001001001000101001000101010100010110101010101001010100101010001001010010100010100100111001001001000100100100010100100010101010001011010101010100101010010101000100101001010001010010011100100100100010010010001010010001010101000101101010101010010101001010100010010100101000101001001110010010010001001001000101001000101010100010110101010101001010100101010001001010010100010100100111001001001000100100100010100100010101010001011010101010100101010010101000100101001010001010010011100100100100010010010001010010001010101000101101010101010010101001010100010010100101000101001001110010010010001001001000101001000101010100010110101010101001010100101010001001010010100010100100111001001001000100100100010100100010101010001011010101010100101010010101000100101001010001010010011100100100100010010010001010010001010101000101101010101010010101001010100010010100101000101001001110010010010001001001000101001000101010100010110101010101001010100101010001001010010100010100100111001001001000100100100010100100010101010001011010101010100101010010101000100101001010001010010011100100100100010010010001010010001010101000101101010101010010101001010100010010100101000101001001110010010010001001001000101001000101010100010110101010101001010100101010001001010010100010100100111001001001000100100100010100100010101010001011010101010100101010010101000100101001010001010010011100100100100010010010001010010001010101000101101010101010010101001010100010010100101000101001001110010010010001001001000101001000101010100010110101010101001010100101010001001010010100010100100111001001001000100100100010100100010101010001011010101010100101010010101000100101001010001010010011100100100100010010010001010010001010101000101101010101010010101001010100010010100101000101001001110010010010001001001000101001000101010100010110101010101001010100101010001001010010100010100100111001001001000100100100010100100010101010001011010101010100101010010101000100101001010001010010011100100100100010010010001010010001010101000101101010101010010101001010100010010100101000101001001110010010010001001001000101001000101010100010110101010101001010100101010001001010010100010100100111001001001000100100100010100100010101010001011010101010100101010010101000100101001010001010010011100100100100010010010001010010001010101000101101010101010010101001010100010010100101000101001001110010010010001001001000101001000101010100010110101010101001010100101010001001010010100010100100111001001001000100100100010100100010101010001011010101010100101010010101000100101001010001010010011100100100100010010010001010010001010101000101101010101010010101001010100010010100101000101001001110010010010001001001000101001000101010100010110101010101001010100101010001001010010100010100100111001001001000100100100010100100010101010001011010101010100101010010101000100101001010001010010011100100100100010010010001010010001010101000101101010101010010101001010100010010100101000101001001110010010010001001001000101001000101010100010110101010101001010100101010001001010010100010100100111001001001000100100100010100100010101010001011010101010100101010010101000100101001010001010010011100100100100010010010001010010001010101000101101010101010010101001010100010010100101000101001001110010010010001001001000101001000101010100010110101010101001010100101010001001010010100010100100111001001001000100100100010100100010101010001011010101010100101010010101000100101001010001010010011100100100100010010010001010010001010101000101101010101010010101001010100010010100101000101001001110010010010001001001000101001000101010100010110101010101001010100101010001001010010100010100100111001001001000100100100010100100010101010001011010101010100101010010101000100101001010001010010011100100100100010010010001010010001010101000101101010101010010101001010100010010100101000101001001110010010010001001001000101001000101010100010110101010101001010100101010001001010010100010100100111001001001000100100100010100100010101010001011010101010100101010010101000100101001010001010010011100100100100010010010001010010001010101000101101010101010010101001010100010010100101000101001001110010010010001001001000101001000101010100010110101010101001010100101010001001010010100010100100111001001001000100100100010100100010101010001011010101010100101010010101000100101001010001010010011100100100100010010010001010010001010101000101101010101010010101001010100010010100101000101001001110010010010001001001000101001000101010100010110101010101001010100101010001001010010100010100100111001001001000100100100010100100010101010001011010101010100101010010101000100101001010
No one would search for private info
on a currency converter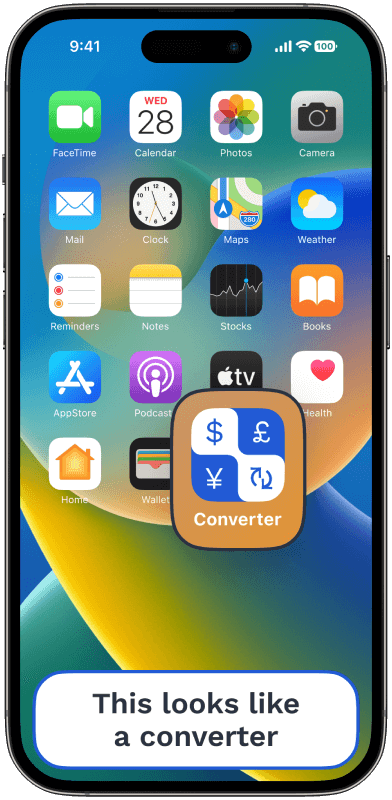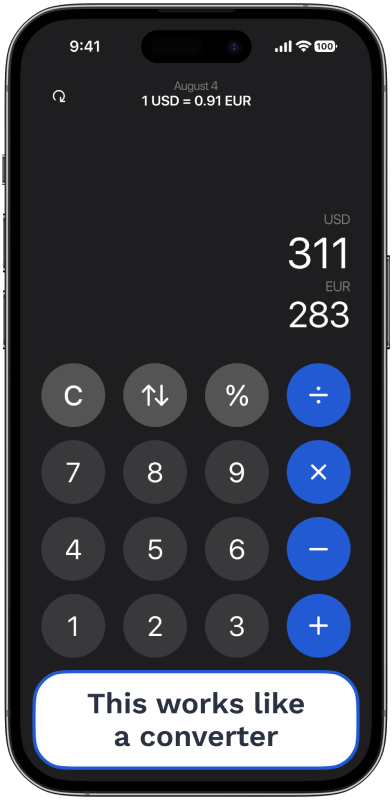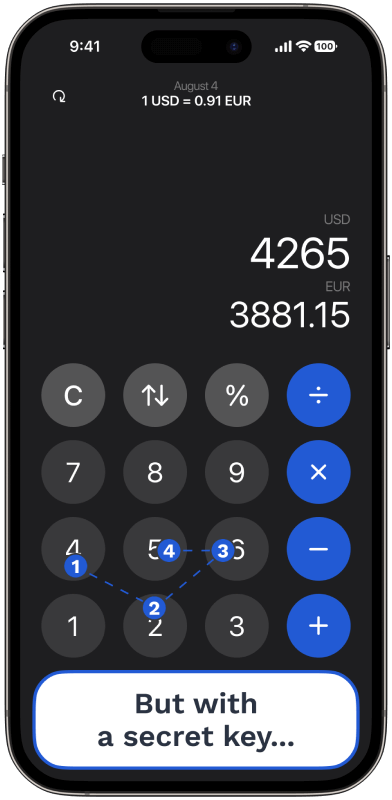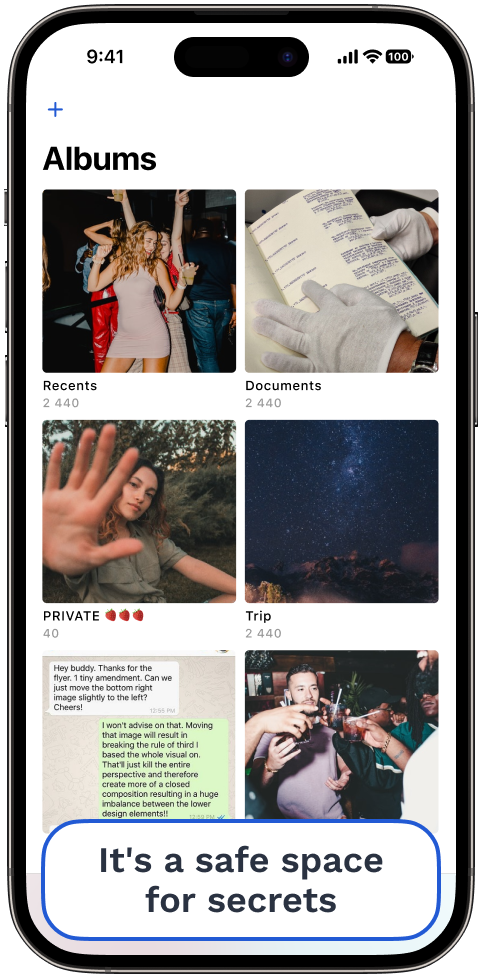 It's just a currency converter that actually works
The storage will open only when you enter a correct combination
Unlimited storage

to keep your data safe forever
Important docs
Intimate
Party videos
Chat screens
Use

cases
A child won't accidentally see or delete your files
Your data is safe from any prying eyes
In the event of a hack, your data will remain secure
The repair service staff will not copy your data
Features
Photo & video
Albums
Face ID
iCloud sync
End-to-end
34+ languages
Honest
reviews
It ain't much, but it's honest work
Clear

benefit

Forget subscriptions – One purchase

VS

Subscription
×

10$/month

×

120$/year

×

360$/3 years
Build by indie devs for users
A one-time payment makes using the app from a distance much cheaper.
One payment and you are secured
forever
No hidden fees and overpayments
Real
secure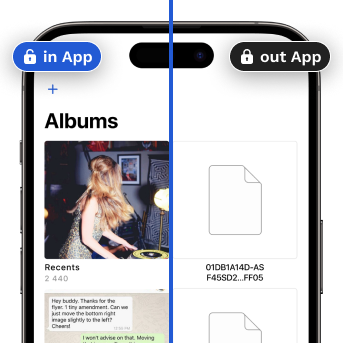 Military-grade encryption
It would take years for even the best supercomputer to decipher your data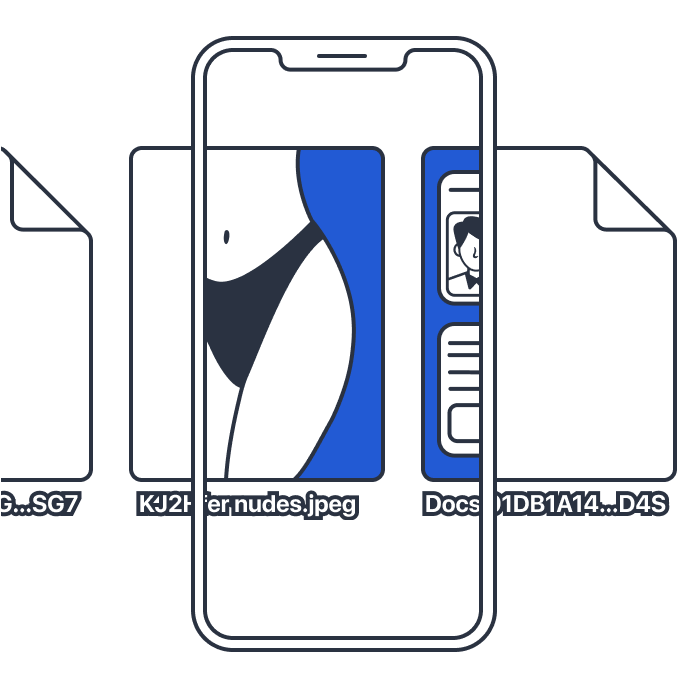 End-to-end tecnology
We do not index your data or sell it to corporations
FAQ
Is there 24/7 support available?
Yes, if you have an urgent question, we are ready to help at anytime.
Contact us via email or in the feedback section in the settings screen.
What happens to files if the app is deleted?
When the app is deleted, files that were not backed up will be lost. However, if you have synchronized your files with iCloud, you can restore them by logging into your iCloud account on any new device.
What file formats does your app support?
Our app currently supports image formats such as JPEG and PNG, and standard video formats like MP4. We will add support document files in future.
Is there a camera inside the app with encryption?
Currently, there is no in-built camera within the app. We will add it in future. However, any photos or videos that you import into the app will be encrypted and stored securely.
If I forget my password, can I regain access?
For security reasons, if you forget your password, we are unable to recover it. We recommend keeping your password in a secure location to ensure you can always access your files.
How can I restore my data when changing devices?
How can I restore my data when changing devices? To restore your data on a new device, simply log in to your iCloud account on the new device. Your data will be securely downloaded to your new device, ensuring a seamless transition.
Download for free
App Store